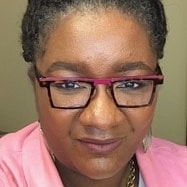 Carrie Francis
Chair - President (HBMS)
Associate Dean, Workforce Innovation and Empowerment, Faculty Affairs & Development
Associate Professor, Department of Otolaryngology, Head & Neck Surgery
Kansas University Medical Center
Saint Louis University, St. Louis, Missouri
Carrie L. Francis, M.D. is a proud graduate of Xavier University of Louisiana. She then matriculated at St. Louis University School of Medicine in 2001.  After graduating with honors, she completed her postgraduate residency training in Otolaryngology-Head & Neck Surgery at the University of Arkansas for Medical Sciences (UAMS).  During residency, Dr. Francis was involved in the medical school admissions and other educational programs geared towards medical student mentoring and education.  Dr. Francis developed an interest in academics and Pediatric Otolaryngology during residency training and completed a Pediatric Otolaryngology fellowship at Rady Children's Hospital, San Diego. 
Dr. Francis is currently an Associate Professor in the Pediatric Otolaryngology Division of the Department of Otolaryngology-Head and Neck Surgery at Kansas University Medical Center (KUMC). Clinically, Dr. Francis is a recognized pediatric otolaryngologist faculty in general pediatric otolaryngology and salivary gland disease. In addition to a busy surgical practice, Dr. Francis has a passion for the development of physicians and learners to inspire and empower authenticity and community building to create the agency needed to thrive and lead from within. Dr. Francis serves as an Associate Dean of Workforce Innovation and Empowerment for the KUMC community. In this faculty development role, Dr. Francis works with faculty to implement strategies that affirm empowered excellence through a socially just academic environment that supports life-long learning, innovative teaching and development and liberated scholarship.
Nationally, Dr. Francis is an active member of the national Otolaryngology governing body, the American Academy of Otolaryngology, Head and Neck Surgery (AAO-HNS) and Society of University Otolaryngologist's (SUO), American Society of Pediatric Otolaryngology (ASPO), American Academy of Pediatrics (AAP). She is the immediate past chair of the SUO Diversity Committee and now serves on the Executive Board. Dr. Francis is the Vice-Chair of the Otolaryngology Section of the National Medical Association. She has an active member of both the Diversity and General Otolaryngology Education committees (AAO-HNS). On both committees, she has had an active role in the development and roll out of Cultural Competency Survey, multiple CME modules on Leadership and Cultural Competency
At KUMC, she holds multiple leadership roles, serving as member and Chair of the School of Medicine Admissions committee (2015-2016, 2019-2020) and Academic and Professionalism committee (2016-2017). Dr. Francis has an active teaching and mentoring role in the development of learners and faculty. She was presented the Excellence in Teaching, Student Voice Award in 2015 and 2016 and nominated for the Rainbow Award for heroes in medicine in 2018.