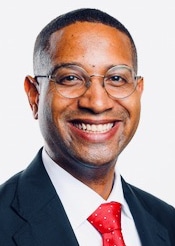 Romaine Johnson
Chair-Elect/Vice-President (HBMS)
Associate professor
Department of Otolaryngology Head and Neck Surgery
UT Southwestern Medical Center
Romaine F. Johnson, M.D., M.P.H., FACS, is an Associate Professor in the Department of Otolaryngology – Head and Neck Surgery at UT Southwestern Medical Center. He specializes in pediatric aerodigestive disorders, pediatric voice, and pediatric tracheostomy and airway reconstruction.
He serves as Director of both the Children's Health Airway Management Program and the Pediatric Voice and Swallowing Clinic at Children's Medical Center Dallas.
Dr. Johnson earned his medical degree at the Drexel University College of Medicine (formerly MCP Hahnemann). He completed a residency in otolaryngology at Baylor College of Medicine and received advanced training in pediatric fellowship through a fellowship at Cincinnati Children's Hospital Medical Center.
He also holds an undergraduate degree in biology from Lincoln University in Pennsylvania and a Master of Public Health degree from the Johns Hopkins Bloomberg School of Public Health.
Certified by the American Board of Otolaryngology – Head and Neck Surgery, he joined the UT Southwestern faculty in 2006.
Dr. Johnson's research interests include subglottic stenosis, obstructive sleep apnea, vocal cord paralysis, quality improvement, and airway simulation.
He has authored nearly 60 scientific articles, book chapters, and meeting proceedings, and he has delivered numerous national presentations, lectures, and professional courses. He serves as an Associate Editor of Pediatric Otolaryngology for Otolaryngology – Head and Neck Surgery as well as a reviewer for The Laryngoscope.

Dr. Johnson is a Fellow of the American Laryngological, Rhinological, and Otological Society (aka The Triological Society), the American Academy of Otolaryngology – Head and Neck Surgery, and the American College of Surgeons. He's also an active member of the American Society of Pediatric Otolaryngology, the American Broncho-Esophagological Association, and the National Medical Association.
He has been included in D Magazine's Best Doctors list, and he received the Honor Award in 2012 from the American Academy of Otolaryngology – Head & Neck Surgery Foundation. He is also a lifetime member of Alpha Phi Alpha Fraternity Inc.